Laconiko "Award Winning" Estate Olive Oil -500 ml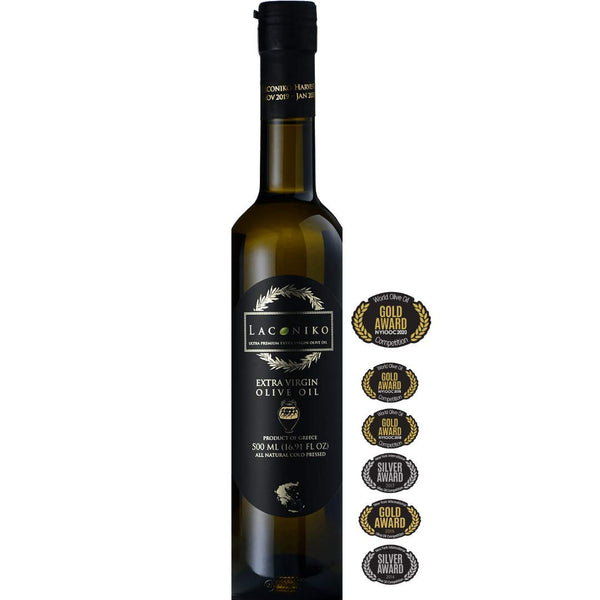 Nov 2022-Jan 2023 Vintage! Canton Provisions has sought out one of the finest Olive Oils for you and your kitchen.  Laconiko Olive Oil is sourced from a small family farm in Greece that takes great care to the quality and process.  With all the variations and misinformation about "Extra Virgin Olive Oil" out there, Laconiko is one that you can trust . Canton Provisions is proud to offer you this Ultra Premium Product.
Our Koroneiki varietal olive trees, with its high fruit bearing properties and being recognized internationally in having some of the highest polyphenol (antioxidant) bearing properties amongst other olive varieties and with our ideal harvesting methods and weather conditions, ensure that our olive oil is yearly of the highest quality.  Our olives are always hand-picked, placed in bins and pressed in less than a 4 hour period of their picking.


Laconiko Ultra Premium 100% Extra Virgin Koroneiki Greek Olive Oil. Recognized by FORBES magazine as one of the three high-quality olive oil producers to know in the world Jan 31,2019.

Made with 100% hand picked estate grown, organically cultivated and GMO Free koroneiki olives harvested in November 2019 - January 2020 harvest

.17% Acidity (four times lower than the requirement to be categorized extra virgin). High Polyphenol Olive Oil with phenol count of 430.

Voted one of the world's best olive oils in 2019 by the EVOO World Ranking Organization! Gold Medal in 2020, 2019, and 2018 New York International Olive Oil Competition, BEST IN GREECE and BEST in SHOW Award in 2018 Athens International Olive Oil Competition.
Product Details
This is our Pride and Joy, Our family's most Awarded Extra Virgin Olive Oil with a Grassy smooth, rich, buttery flavor. This is excellent on any dish! It is great on salads, breads, vegetables, dips, pasta, and even great for cooking (sautéing, marinating, grilling). This is not your ordinary extra virgin olive oil. This is 100% unblended, REAL extra virgin olive oil from out private estate and single olive variety (koroneiki olive), which has a shelf life of two plus years do to our high antioxidants in our olive oil. Experience the pleasure of using an Award Winning top quality 100% Extra Virgin Olive Oil"
Acidity: 0.17
k270: 0.101
k232: 1.255
DK: -0.003
Peroxide Value: 2.24
Polyphenols: 430